My desktop computer setup has no volume buttons whatsoever. This is a real problem that needs to be solved. But often things don't get done without deadlines. I only have two hours til a respectable bed time. To make this more fun, I will write updates as they happen without post-editing. Let's get started:
Research
X:33 – I have a nice potentiometer from Sparkfun that should work well. That with an Arduino would be a nice MVP. Software?
X:42 – NirCmd is a good starting point
X:45 – Looks like pulling data in from the Arduino over a COM port and reading it in a Batch script will work. That's good enough for me.
Decide
X:49 – Analog pin on an Arduino will read voltage across a potentiometer. Arduino will scale that level up to whatever NirCmd likes to see, then constantly send out that level. A Batch script will run on my PC watching that COM port for a change in the value. When it reads a new value it will set the audio level appropriately
Do
Y:14 – Resistor Divider and Arduino analog input values I should expect to see.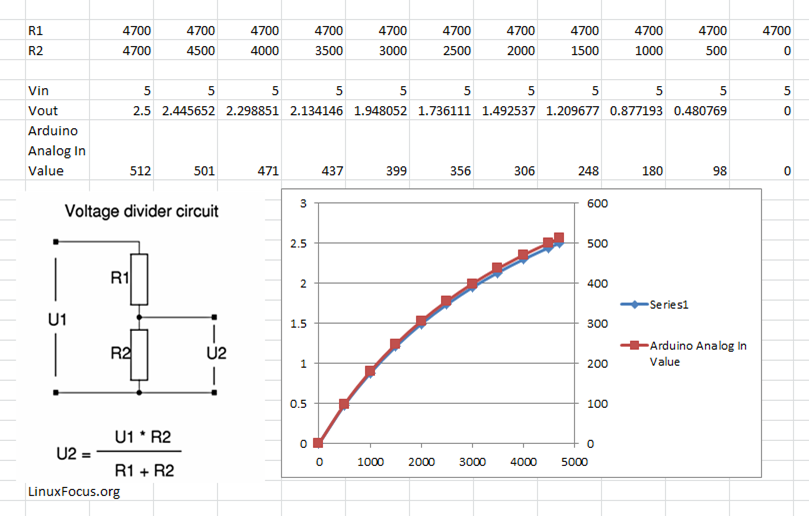 Y:29 – Lost my friendly book of common resistor values. A minor panic ensued. Fortunately my junk bin had plenty of resistors. Hardware is ready to go.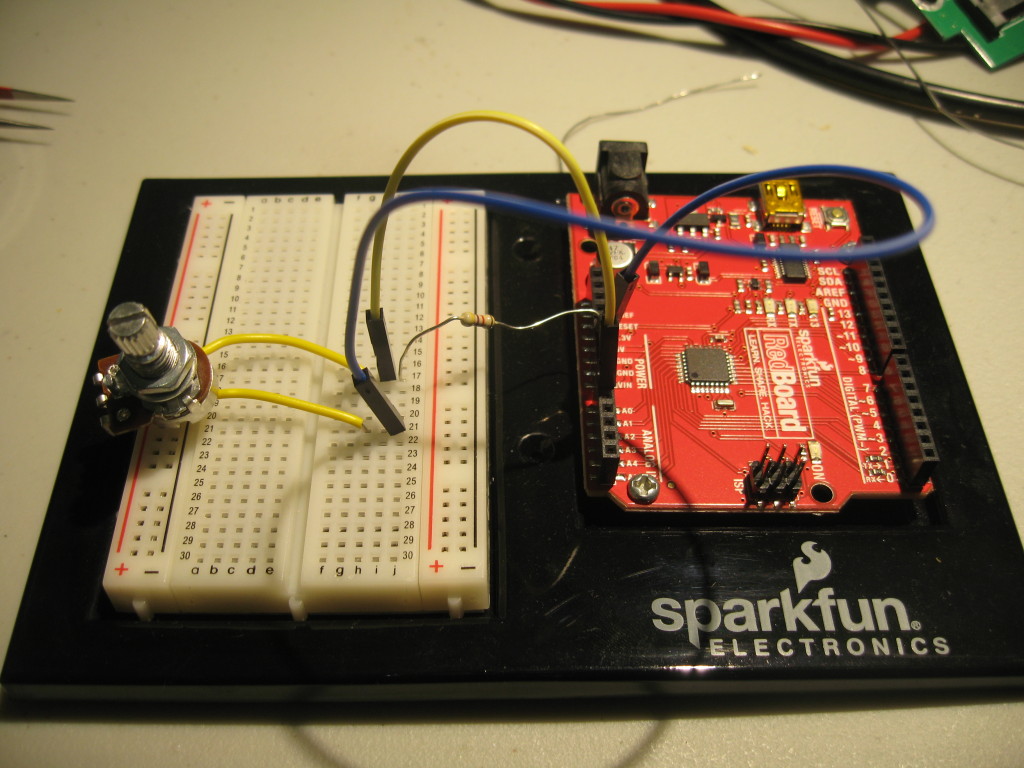 Y:45 – Arduino code done
1

2

3

4

5

6

7

8

9

10

11

12

13

14

15

16

17

18

19

20

21

22

23

24

25

26

27

28

29

30

31

32

33

34

35

36

37

38

39

40

41

42

43

44

45

46

47

48

49

50

51

52

53

54

55

56

57

58

59

60

61

62

63

64

65

66

67

68

69

70

71

72

73

74

75

76

77

78

79

80

81

82

83

84

85

86

87

88

89

90

91

92

93

94

95

96

97

98

99

100

101

102

103

104

105

106

107

108

109

110

111

112

113

114

115

116

117

118

119

120

121

122

123

124

125

126

127

128

129

130

131

132

133

134

135

136

137

138

139

140

141

142

143

144

145

146

147

148

149

150

151

152

153

154

155

156

157

158

159

160

161

162

163

164

165

166

167

168

169

170

171

172

173

174

175

176

177

178

179

180

181

182

183

184

185

186

187

188

189

190

191

192

193

194

195

196

197

198

199

200

201

202

203

204

205

206

207

208

209

210

211

212

213

214

215

216

217

218

219

220

221

222

223

224

225

226

227

228

229

230

231

232

233

234

235

236

237

238

239

240

241

242

243

244

245

246

247

248

249

250

251

252

253

254

255

256

257

258

259

260

261

262

263

264

265

266

267

268

269

270

271

272

273

274

275

276

277

278

279

280

281

282

283

284

285

286

287

288

289

290

291

292

293

294

295

296

297

298

299

300

301

302

303

304

305

306

307

308

309

310

311

312

313

314

315

316

317

318

319

320

321

322

323

324

325

326

327

328

329

330

331

332

333

334

335

336

337

338

339

340

341

342

343

344

345

346

347

348

349

350

351

352

353

354

355

356

357

358

359

360

361

362

363

364

365

366

367

368

369

370

371

372

373

374

375

376

377

378

379

380

381

382

383

384

385

386

387

388

389

390

391

392

393

394

395

396

397

398

399

400

401

402

403

404

405

406

407

408

409

410

411

412

413

414

415

416

417

418

419

420

421

422

423

424

425

426

427

428

429

430

431

432

433

434

<

meta

http

-

equiv

=

"Content-Type"

content

=

"text/html; charset=utf-8"

>

<

meta

name

=

"keywords"

content

=

"Arduino IDE, Arduino Integrated Development Environment, Arduino Software (IDE), Arduino web editor, Codebender"

>

<

meta

name

=

"description"

content

=

"Arduino IDE in the Cloud. Codebender includes a Arduino web editor so you can code, store and manage your Arduino sketches on the cloud, and even compile and flash them."

>

<

meta

property

=

"og:site_name"

content

=

"Arduino IDE"

/

>

<

meta

property

=

"og:title"

content

=

"Arduino Cloud IDE - Codebender"

>

<

meta

property

=

"og:description"

content

=

"Arduino IDE in the Cloud. Codebender includes a Arduino web editor so you can code, store and manage your Arduino sketches on the cloud, and even compile and flash them."

>

<

meta

name

=

"viewport"

content

=

"width=device-width, initial-scale=1"

>

<

meta

property

=

"og:image"

content

=

"https://codebender.cc/images/codebender_social.png?v56"

>

<

meta

property

=

"og:url"

content

=

"https://codebender.cc/sketch:129292"

>

<

meta

property

=

"og:type"

content

=

"website"

>

<

meta

property

=

"fb:app_id"

content

=

"439261962789824"

>

<

link

rel

=

"alternate"

type

=

"application/json+oembed"

href

=

"https://codebender.cc/oembed/?format=json&url=https%3A%2F%2Fcodebender.cc%2Fsketch%3A129292"

title

=

"https://codebender.cc/sketch:129292"

>

<

title

>

AnalogRead

for

Potentiometer

by

michael

.

sizemore

.

a

<

/

title

>

<

link

rel

=

"shortcut icon"

href

=

"/favicon.ico?v56"

>

<

link

rel

=

"stylesheet"

href

=

"/cache/css/common.css?v56"

/

>

<

link

rel

=

"stylesheet"

href

=

"/fonts/font-awesome-4.5.0/css/font-awesome.min.css?v56"

>

<

link

rel

=

"stylesheet"

href

=

"/cache/css/project.css?v56"

/

>

<script

type

=

"text/javascript"

src

=

"//code.jquery.com/jquery-1.12.0.min.js"

>

</script>

<

link

rel

=

"chrome-webstore-item"

href

=

"https://chrome.google.com/webstore/detail/magknjdfniglanojbpadmpjlglepnlko"

>

<

!

--

Global

Site

Tag

(

gtag

.

js

)

-

Google

Analytics

--

>

<script

async

src

=

"https://www.googletagmanager.com/gtag/js?id=UA-122221181-1"

>

</script>

window

.

dataLayer

=

window

.

dataLayer

||

[

]

;

function

gtag

(

)

{

dataLayer

.

push

(

arguments

)

;

}

gtag

(

'config'

,

'UA-122221181-1'

)

;

<

!

--

End

Google

Analytics

--

>

<

!

--

Google

Tag

Manager

--

>

<script>

(

function

(

w

,

d

,

s

,

l

,

i

)

{

w

[

l

]

=

w

[

l

]

||

[

]

;

w

[

l

]

.

push

(

{

'gtm.start'

:

new

Date

(

)

.

getTime

(

)

,

event

:

'gtm.js'

}

)

;

var

f

=

d

.

getElementsByTagName

(

s

)

[

0

]

,

j

=

d

.

createElement

(

s

)

,

dl

=

l

!=

'dataLayer'

?

'&l='

+

l

:

''

;

j

.

async

=

true

;

j

.

src

=

'https://www.googletagmanager.com/gtm.js?id='

+

i

+

dl

;

f

.

parentNode

.

insertBefore

(

j

,

f

)

;

}

)

(

window

,

document

,

'script'

,

'dataLayer'

,

'GTM-N8R9V5Q'

)

;

</script>

<

!

--

End

Google

Tag

Manager

--

>

<script

type

=

"text/javascript"

>

window

.

heap

=

window

.

heap

||

[

]

,

heap

.

load

=

function

(

e

,

t

)

{

window

.

heap

.

appid

=

e

,

window

.

heap

.

config

=

t

=

t

||

{

}

;

var

r

=

document

.

createElement

(

"script"

)

;

r

.

type

=

"text/javascript"

,

r

.

async

=

!

0

,

r

.

src

=

"https://cdn.heapanalytics.com/js/heap-"

+

e

+

".js"

;

var

a

=

document

.

getElementsByTagName

(

"script"

)

[

0

]

;

a

.

parentNode

.

insertBefore

(

r

,

a

)

;

for

(

var

n

=

function

(

e

)

{

return

function

(

)

{

heap

.

push

(

[

e

]

.

concat

(

Array

.

prototype

.

slice

.

call

(

arguments

,

0

)

)

)

}

}

,

p

=

[

"addEventProperties"

,

"addUserProperties"

,

"clearEventProperties"

,

"identify"

,

"resetIdentity"

,

"removeEventProperty"

,

"setEventProperties"

,

"track"

,

"unsetEventProperty"

]

,

o

=

0

;

o

<

p

.

length

;

o

++

)

heap

[

p

[

o

]

]

=

n

(

p

[

o

]

)

}

;

<

!

--

Google

Tag

Manager

(

noscript

)

--

>

<

noscript

>

<

iframe

src

=

"https://www.googletagmanager.com/ns.html?id=GTM-N8R9V5Q"

height

=

"0"

width

=

"0"

style

=

"display:none;visibility:hidden"

>

<

/

iframe

>

<

/

noscript

>

<

!

--

End

Google

Tag

Manager

(

noscript

)

--

>

<

section

class

=

"navbar navbar-fixed-top"

>

<

div

class

=

"navbar-inner"

>

<

a

class

=

"brand"

href

=

"/"

>

<

!

--

<

img

id

=

"logo_small"

src

=

"/images/cb_logo.png?v56"

>

--

>

<

img

alt

=

"Codebender logo"

id

=

"logo_small"

src

=

"/images/cb-ca_logo.svg?v56"

>

<

form

class

=

"navbar-search pull-left"

action

=

"/search/find/"

method

=

"get"

<

input

class

=

"typeahead search-query"

name

=

"query"

type

=

"text"

placeholder

=

"Search"

id

=

"search"

<

i

id

=

"search-in-progress"

class

=

"icon icon-spinner icon-spin"

style

=

"display: none;"

>

<

/

i

>

<

ul

class

=

"nav pull-right"

>

<

a

href

=

"/login"

>

Log

In

<

/

a

>

<

div

id

=

"flashbag-container"

>

<

div

id

=

"mycontainer"

class

=

"container"

>

<

div

class

=

"container-fluid"

>

<

div

class

=

"sketch-view-header"

>

<

h1

class

=

"sketch-info-container"

>

<

span

class

=

"sketch-name"

title

=

"AnalogRead for Potentiometer"

>

AnalogRead

for

Potentiometer

<

span

class

=

"owner-text"

>

by

<

/

span

>

<

a

class

=

"owner-name"

title

=

"michael.sizemore.a"

href

=

"/user/michael.sizemore.a"

>

<

h2

class

=

"clone-info-container"

>

<

div

class

=

"share-container"

>

<

div

class

=

"addthis_sharing_toolbox"

>

<

/

div

>

<script

type

=

"text/javascript"

src

=

"//s7.addthis.com/js/300/addthis_widget.js#pubid=ra-543fc4a82ddf244c"

>

</script>

<script

type

=

"text/javascript"

>

var

currentUrl

=

'https://codebender.cc/sketch:129292'

;

var

addThisDefaultDescription

=

'Arduino IDE in the Cloud. Codebender includes a Arduino web editor so you can code, store and manage your Arduino sketches on the cloud, and even compile and flash them.'

;

var

documentTitle

=

document

.

title

;

function

addthisRefresh

(

)

{

var

ogDescription

=

addThisDefaultDescription

;

if

(

typeof

window

.

shortDescription

==

'string'

&&

window

.

shortDescription

.

length

>

0

)

{

ogDescription

=

window

.

shortDescription

;

window

.

addthis_share

=

window

.

addthis_share

||

{

}

;

window

.

addthis_share

.

title

=

document

.

title

;

window

.

addthis_share

.

description

=

ogDescription

;

window

.

addthis_share

.

passthrough

=

{

window

.

addthis

.

toolbox

(

'.addthis_sharing_toolbox'

)

;

if

(

typeof

window

.

addthis

!==

'undefined'

)

{

var

$

shareModal

=

$

(

'#share-modal'

)

;

if

(

$

shareModal

.

length

>

0

)

{

$

shareModal

.

on

(

'show'

,

addthisRefresh

)

;

border

:

1px

solid

#b2b2b2

;

<

div

id

=

"share-url-container"

>

<

div

id

=

"share-url-wrapper"

>

<

div

id

=

"share-url"

>

codebender

.

cc

/

sketch

:

129292

<

/

div

>

<script

type

=

"text/javascript"

>

$

(

'#share-url'

)

.

on

(

'copy'

,

function

(

event

)

{

var

url

=

$

(

this

)

.

text

(

)

.

trim

(

)

;

event

.

originalEvent

.

clipboardData

.

setData

(

'text/plain'

,

'https://'

+

url

)

;

<

div

id

=

"sketch-view-description"

>

<

div

id

=

"short-description-container"

>

<

div

id

=

"short-description-placeholder"

>

This

sketch

is

missing

a

short

description

<

/

div

>

<

div

id

=

"description-container"

>

<

div

id

=

"description-toggle-container"

>

<

img

src

=

"/images/trigger.svg?v56"

>

<

a

id

=

"description-toggle-button"

href

=

"javascript:void(0)"

>

<

div

id

=

"description-toggle-button-text"

>

More

<

/

div

>

<

i

id

=

"description-toggle-button-icon"

class

=

"fa fa-arrow-down"

>

<

/

i

>

<

div

class

=

"sketch-view-content"

>

<

iframe

style

=

"height: 510px; width: 100%; margin: 10px 0 10px;"

allowTransparency

=

"true"

src

=

"https://codebender.cc/embed/sketch:129292"

frameborder

=

"0"

>

<

/

iframe

>

<

div

class

=

"embed-code embed-sketch"

>

<

p

class

=

"embed-code-title"

>

<

i

class

=

"fa fa-code"

>

<

/

i

>

Embed

This

Sketch

<

p

class

=

"embed-code-body"

>

Use

the

following

HTML

code

to

embed

the

sketch

code

above

in

your

blog

or

website

.

<

/

p

>

.embed-sketch-share-code

{

border

:

1px

solid

#b2b2b2

;

<

div

class

=

"embed-sketch-share-code"

>

<

iframe

style

=

"height: 510px; width: 100%; margin: 10px 0 10px;"

allowTransparency

=

"true"

src

=

"https://codebender.cc/embed/sketch:129292"

frameborder

=

"0"

>

<

/

iframe

>

<

hr

class

=

"embed-code-separator"

>

<

iframe

style

=

"height: 470px; width: 100%; margin: 10px 0 10px;"

allowTransparency

=

"true"

src

=

"https://codebender.cc/embed/serialmonitor"

frameborder

=

"0"

>

<

/

iframe

>

<

div

class

=

"embed-code embed-serialmonitor"

>

<

p

class

=

"embed-code-title"

>

<

i

class

=

"fa fa-terminal"

>

<

/

i

>

Embed

The

Serial

Monitor

<

p

class

=

"embed-code-body"

>

You

can

also

embed

the

Serial

Monitor

section

!

Just

use

this

HTML

code

.

<

/

p

>

.embed-serialmonitor-share-code

{

border

:

1px

solid

#b2b2b2

;

<

div

class

=

"embed-serialmonitor-share-code"

>

<

iframe

style

=

"height: 510px; width: 100%; margin: 10px 0 10px;"

allowTransparency

=

"true"

src

=

"https://codebender.cc/embed/serialmonitor"

frameborder

=

"0"

>

<

/

iframe

>

<

hr

class

=

"embed-code-separator"

>

<

div

class

=

"disqus-container"

>

<script

type

=

"text/javascript"

>

var

disqus_shortname

=

'codebender-cc'

;

var

disqus_container_id

=

'disqus_thread'

;

var

disqus_developer

=

1

;

var

disqus_identifier

=

'/sketch:129292'

;

var

disqus_config

=

function

(

)

{

this

.

page

.

remote_auth_s3

=

"eyJpZCI6IiIsInVzZXJuYW1lIjoiIiwiZW1haWwiOiIiLCJhdmF0YXIiOiIiLCJ1cmwiOiIifQ== 9af0fd38a47750be0763a4c179e4740bea829e40 1631904789"

;

this

.

page

.

api_key

=

"iB7ulp06wIoZU1PwuvKErX3cnowIkq3hggivs290mMZsFTBwz0GSzxPY63e8gLdO"

;

this

.

sso

=

{

name

:

"codebender"

,

icon

:

"https://codebender.cc/images/[email protected]?v56"

,

button

:

"https://codebender.cc/images/[email protected]?v56"

,

url

:

"https://codebender.cc/users/disqus/login"

,

logout

:

"https://codebender.cc/logout"

,

width

:

"400"

,

height

:

"400"

}

;

}

;

/* * * DON'T EDIT BELOW THIS LINE * * */

var

dsq

=

document

.

createElement

(

'script'

)

;

dsq

.

type

=

'text/javascript'

;

dsq

.

async

=

true

;

dsq

.

src

=

'//'

+

disqus_shortname

+

'.disqus.com/embed.js'

;

(

document

.

getElementsByTagName

(

'head'

)

[

0

]

||

document

.

getElementsByTagName

(

'body'

)

[

0

]

)

.

appendChild

(

dsq

)

;

<

/

div

>

<

!

--

/

.

fluid

-

container

--

>

<script

type

=

"text/javascript"

src

=

"//cdnjs.cloudflare.com/ajax/libs/json3/3.3.2/json3.min.js"

>

</script>

<script

type

=

"text/javascript"

src

=

"//code.jquery.com/ui/1.11.2/jquery-ui.min.js"

>

</script>

<script

type

=

"text/javascript"

src

=

"//netdna.bootstrapcdn.com/twitter-bootstrap/2.3.2/js/bootstrap.min.js"

>

</script>

<script

type

=

"text/javascript"

src

=

"/js/dropzone.min.js?v56"

>

</script>

===

===

===

===

===

===

===

===

===

===

===

===

===

===

===

===

==

--

>

<

!

--

Placed

at

the

end

of

the

document

so

the

pages

load

faster

--

>

<script

src

=

/

walkthrough

/lawnchair-0.6.4.min.js?v56></s

cript

>

<script

src

=

"/bootstrap-filestyle.min.js?v56"

type

=

"text/javascript"

>

</script>

<script

type

=

"text/javascript"

>

var

p

=

[

]

,

w

=

window

,

d

=

document

,

e

=

f

=

0

;

p

.

push

(

'ua='

+

encodeURIComponent

(

navigator

.

userAgent

)

)

;

e

|=

w

.

ActiveXObject

?

1

:

0

;

e

|=

'getBoxObjectFor'

in

d

||

'mozInnerScreenX'

in

w

?

8

:

0

;

e

|=

(

'WebKitCSSMatrix'

in

w

||

'WebKitPoint'

in

w

||

'webkitStorageInfo'

in

w

||

'webkitURL'

in

w

)

?

16

:

0

;

e

|=

(

e

&

16

&&

(

{

}

.

toString

)

.

toString

(

)

.

indexOf

(

"\n"

)

===

-

1

)

?

32

:

0

;

f

|=

'sandbox'

in

d

.

createElement

(

'iframe'

)

?

1

:

0

;

f

|=

'WebSocket'

in

w

?

2

:

0

;

f

|=

w

.

applicationCache

?

8

:

0

;

f

|=

w

.

history

&&

history

.

pushState

?

16

:

0

;

f

|=

d

.

documentElement

.

webkitRequestFullScreen

?

32

:

0

;

f

|=

'FileReader'

in

w

?

64

:

0

;

p

.

push

(

'r='

+

Math

.

random

(

)

.

toString

(

36

)

.

substring

(

7

)

)

;

p

.

push

(

'w='

+

screen

.

width

)

;

p

.

push

(

'h='

+

screen

.

height

)

;

var

s

=

d

.

createElement

(

'script'

)

;

s

.

src

=

'/js/whichbrowser/detect.js?v56?'

+

p

.

join

(

'&'

)

;

d

.

getElementsByTagName

(

'head'

)

[

0

]

.

appendChild

(

s

)

;

function

createLog

(

actionId

,

metaData

,

callback

)

{

if

(

typeof

callback

===

'function'

)

{

function

setOperationOutputMessage

(

message

)

{

var

$

cbCfOperationOutput

=

$

(

'#cb_cf_operation_output'

)

;

$

cbCfOperationOutput

.

html

(

message

)

;

if

(

message

.

length

>

0

)

{

$

cbCfOperationOutput

.

removeClass

(

'new-message'

)

.

width

(

)

;

$

cbCfOperationOutput

.

addClass

(

'new-message'

)

;

$

(

document

)

.

on

(

'click'

,

'.close-flash-notice'

,

function

(

event

)

{

$

(

event

.

target

)

.

closest

(

'.alert'

)

.

remove

(

)

;

if

(

typeof

window

.

codebender

!==

'object'

)

{

window

.

codebender

.

compilerflasher

=

{

staticPlugin

:

'https://codebender.cc/static/plugin'

,

pluginMsi

:

'https://codebender.cc'

+

'/Codebendercc.msi'

,

pluginXpi

:

'https://codebender.cc'

+

'/codebender.xpi'

,

utilitiesCompile

:

"https://codebender.cc/utilities/compile/"

,

bootloader

:

'https://codebender.cc'

+

'/bootloader/'

,

listBoards

:

"https://codebender.cc/board/listboards"

,

listProgrammers

:

"https://codebender.cc/board/programmers"

,

bfFirefoxClient

:

"/embed/bf-firefox-client.js?v56"

,

iframeChromeClient

:

"/embed/iframe-chrome-client.js?v56"

,

chromeClient

:

"/embed/chrome-client.js?v56"

,

cbAgent

:

"/embed/cb-agent.min.js?v56"

,

serialMonitorSection

:

"\x3Cstyle\x3E\x0A\x20\x20\x20\x20\x23serial_monitor_content\x20\x7B\x0A\x20\x20\x20\x20\x20\x20\x20\x20display\x3A\x20none\x3B\x0A\x20\x20\x20\x20\x7D\x0A\x0A\x20\x20\x20\x20\x23serial_hud\x20\x7B\x0A\x20\x20\x20\x20\x20\x20\x20\x20overflow\x2Dy\x3A\x20auto\x3B\x0A\x20\x20\x20\x20\x7D\x0A\x0A\x20\x20\x20\x20\x23serial_monitor_hud_and_autoscroll\x20\x7B\x0A\x20\x20\x20\x20\x20\x20\x20\x20display\x3A\x20inline\x2Dblock\x3B\x0A\x20\x20\x20\x20\x7D\x0A\x0A\x20\x20\x20\x20\x23serial\x2Dchecboxes\x20\x7B\x0A\x20\x20\x20\x20\x20\x20\x20\x20display\x3A\x20inline\x2Dblock\x3B\x0A\x20\x20\x20\x20\x7D\x0A\x0A\x20\x20\x20\x20\x23serial\x2Dchecboxes\x20\x3E\x20label\x20\x7B\x0A\x20\x20\x20\x20\x20\x20\x20\x20margin\x2Dbottom\x3A\x200\x3B\x0A\x20\x20\x20\x20\x7D\x0A\x0A\x20\x20\x20\x20\x23autoscroll_label\x20\x7B\x0A\x20\x20\x20\x20\x20\x20\x20\x20position\x3A\x20relative\x3B\x0A\x20\x20\x20\x20\x20\x20\x20\x20top\x3A\x208px\x3B\x0A\x20\x20\x20\x20\x7D\x0A\x0A\x20\x20\x20\x20\x23autoscroll_check\x20\x7B\x0A\x20\x20\x20\x20\x20\x20\x20\x20display\x3A\x20block\x3B\x0A\x20\x20\x20\x20\x7D\x0A\x0A\x20\x20\x20\x20\x23echo_label\x20\x7B\x0A\x20\x20\x20\x20\x20\x20\x20\x20position\x3A\x20relative\x3B\x0A\x20\x20\x20\x20\x20\x20\x20\x20top\x3A\x203px\x3B\x0A\x20\x20\x20\x20\x7D\x0A\x0A\x20\x20\x20\x20.serial\x2Dmonitor\x2Decho\x20\x7B\x0A\x20\x20\x20\x20\x20\x20\x20\x20display\x3A\x20inline\x2Dblock\x3B\x0A\x20\x20\x20\x20\x20\x20\x20\x20color\x3A\x20\x23FF0000\x3B\x0A\x20\x20\x20\x20\x7D\x0A\x0A\x20\x20\x20\x20\x23serial\x2Dline\x2Dendings\x20\x7B\x0A\x20\x20\x20\x20\x20\x20\x20\x20width\x3A\x20130px\x3B\x0A\x20\x20\x20\x20\x20\x20\x20\x20margin\x2Dbottom\x3A\x2010px\x3B\x0A\x20\x20\x20\x20\x7D\x0A\x3C\x2Fstyle\x3E\x0A\x0A\x3Cdiv\x20class\x3D\x22serial\x2Dmonitor\x2Dcontainer\x22\x3E\x0A\x20\x20\x20\x20\x3Cdiv\x20id\x3D\x22serial_monitor_content\x22\x3E\x0A\x20\x20\x20\x20\x20\x20\x20\x20\x3Cdiv\x20id\x3D\x22serial_monitor_hud_and_autoscroll\x22\x3E\x0A\x20\x20\x20\x20\x20\x20\x20\x20\x3Cspan\x20id\x3D\x22serial\x2Dchecboxes\x22\x3E\x0A\x20\x20\x20\x20\x20\x20\x20\x20\x20\x20\x20\x20\x3Clabel\x20id\x3D\x22autoscroll_label\x22\x20class\x3D\x22checkbox\x22\x3E\x0A\x20\x20\x20\x20\x20\x20\x20\x20\x20\x20\x20\x20\x20\x20\x20\x20\x3Cinput\x20id\x3D\x27autoscroll_check\x27\x20type\x3D\x22checkbox\x22\x20checked\x3E\x0A\x20\x20\x20\x20\x20\x20\x20\x20\x20\x20\x20\x20\x20\x20\x20\x20Autoscroll\x0A\x20\x20\x20\x20\x20\x20\x20\x20\x20\x20\x20\x20\x3C\x2Flabel\x3E\x0A\x0A\x20\x20\x20\x20\x20\x20\x20\x20\x20\x20\x20\x20\x3Clabel\x20id\x3D\x22echo_label\x22\x20class\x3D\x22checkbox\x22\x3E\x0A\x20\x20\x20\x20\x20\x20\x20\x20\x20\x20\x20\x20\x20\x20\x20\x20\x3Cinput\x20id\x3D\x27echo_check\x27\x20type\x3D\x22checkbox\x22\x3E\x0A\x20\x20\x20\x20\x20\x20\x20\x20\x20\x20\x20\x20\x20\x20\x20\x20Echo\x0A\x20\x20\x20\x20\x20\x20\x20\x20\x20\x20\x20\x20\x3C\x2Flabel\x3E\x0A\x20\x20\x20\x20\x20\x20\x20\x20\x3C\x2Fspan\x3E\x0A\x0A\x20\x20\x20\x20\x20\x20\x20\x20\x20\x20\x20\x20\x3Cselect\x20id\x3D\x22serial\x2Dline\x2Dendings\x22\x3E\x0A\x20\x20\x20\x20\x20\x20\x20\x20\x20\x20\x20\x20\x20\x20\x20\x20\x3Coption\x20value\x3D\x22nle\x22\x3ENo\x20line\x20ending\x3C\x2Foption\x3E\x0A\x20\x20\x20\x20\x20\x20\x20\x20\x20\x20\x20\x20\x20\x20\x20\x20\x3Coption\x20value\x3D\x22nl\x22\x3ENewline\x3C\x2Foption\x3E\x0A\x20\x20\x20\x20\x20\x20\x20\x20\x20\x20\x20\x20\x20\x20\x20\x20\x3Coption\x20value\x3D\x22cr\x22\x3ECarriage\x20return\x3C\x2Foption\x3E\x0A\x20\x20\x20\x20\x20\x20\x20\x20\x20\x20\x20\x20\x20\x20\x20\x20\x3Coption\x20value\x3D\x22nlcr\x22\x20selected\x3D\x22selected\x22\x3EBoth\x20NL\x20\x26\x20CR\x3C\x2Foption\x3E\x0A\x20\x20\x20\x20\x20\x20\x20\x20\x20\x20\x20\x20\x3C\x2Fselect\x3E\x0A\x20\x20\x20\x20\x20\x20\x20\x20\x3C\x2Fdiv\x3E\x0A\x0A\x20\x20\x20\x20\x20\x20\x20\x20\x3Cdiv\x20class\x3D\x22input\x2Dappend\x22\x3E\x0A\x20\x20\x20\x20\x20\x20\x20\x20\x20\x20\x20\x20\x3Cinput\x20id\x3D\x22text2send\x22\x20type\x3D\x22text\x22\x20placeholder\x3D\x22Type\x20a\x20message\x22\x0A\x20\x20\x20\x20\x20\x20\x20\x20\x20\x20\x20\x20\x20\x20\x20\x20\x20\x20\x20onkeydown\x3D\x22compilerflasher.pluginHandler.serialSendOnEnter\x28event\x29\x22\x3E\x0A\x20\x20\x20\x20\x20\x20\x20\x20\x20\x20\x20\x20\x3Cbutton\x20id\x3D\x22serial_send\x22\x20onclick\x3D\x22compilerflasher.pluginHandler.serialSend\x28\x29\x22\x20class\x3D\x22btn\x22\x20title\x3D\x22Send\x20Message\x22\x3E\x0A\x20\x20\x20\x20\x20\x20\x20\x20\x20\x20\x20\x20\x20\x20\x20\x20Send\x0A\x20\x20\x20\x20\x20\x20\x20\x20\x20\x20\x20\x20\x3C\x2Fbutton\x3E\x0A\x20\x20\x20\x20\x20\x20\x20\x20\x3C\x2Fdiv\x3E\x0A\x20\x20\x20\x20\x3C\x2Fdiv\x3E\x0A\x0A\x20\x20\x20\x20\x3Cpre\x20id\x3D\x22serial_hud\x22\x20class\x3D\x22well\x22\x3E\x3C\x2Fpre\x3E\x0A\x3C\x2Fdiv\x3E\x0A"

window

.

codebender

.

algolia

=

{

applicationKey

:

'DA86WRM5TA'

,

searchOnlyKey

:

'8594006ceb348fc84829b4290adcb0f3'

,

image

:

'/images/algolia.png?v56'

<script

src

=

"/js/algolia.min.js?v56"

>

</script>

<script

src

=

"/js/typeahead.js?v56"

>

</script>

<script

src

=

"/js/hogan.js?v56"

>

</script>

<script

type

=

"text/javascript"

src

=

"/cache/js/common.js?v56"

>

</script>

(

function

(

i

,

s

,

o

,

g

,

r

,

a

,

m

)

{

i

[

'GoogleAnalyticsObject'

]

=

r

;

i

[

r

]

=

i

[

r

]

||

function

(

)

{

(

i

[

r

]

.

q

=

i

[

r

]

.

q

||

[

]

)

.

push

(

arguments

)

}

,

i

[

r

]

.

l

=

1

*

new

Date

(

)

;

a

=

s

.

createElement

(

o

)

,

m

=

s

.

getElementsByTagName

(

o

)

[

0

]

;

a

.

async

=

1

;

a

.

src

=

g

;

m

.

parentNode

.

insertBefore

(

a

,

m

)

}

)

(

window

,

document

,

'script'

,

'//www.google-analytics.com/analytics.js'

,

'ga'

)

;

ga

(

'create'

,

'UA-36583501-1'

,

'codebender.cc'

)

;

<script

src

=

"/js/Markdown.Converter.js?v56"

type

=

"text/javascript"

>

</script>

<script

type

=

"text/javascript"

src

=

"/cache/js/project.js?v56"

>

</script>

<script

type

=

"text/javascript"

>

window

.

shortDescription

=

''

;

<script

type

=

"text/javascript"

>

var

a

=

document

.

createElement

(

"script"

)

;

var

b

=

document

.

getElementsByTagName

(

"script"

)

[

0

]

;

a

.

src

=

document

.

location

.

protocol

+

"//dnn506yrbagrg.cloudfront.net/pages/scripts/0020/3051.js?"

+

Math

.

floor

(

new

Date

(

)

.

getTime

(

)

/

3600000

)

;

a

.

type

=

"text/javascript"

;

b

.

parentNode

.

insertBefore

(

a

,

b

)
2-Hours Up!
Z:38 – Well, I didn't make the 2-hour deadline. The last hour was spent unsuccessfully fumbling around a Batch script trying to read my COM port. I'm going to check out powershell and give myself some extra time.
1st Overtime
A:05 – PowerShell made it no problem. I now have a working butter-smooth volume knob! Yes it is ugly, but the only criteria was functionality. Plus, I might need another 2-hour project sometime soon.
Reading Arduino over COM port
1

2

3

4

5

6

7

8

9

10

11

12

13

14

15

16

17

18

19

20

21

$port

=

new-Object

System

.

IO

.

Ports

.

SerialPort

COM3

,

9600

,

None

,

8

,

one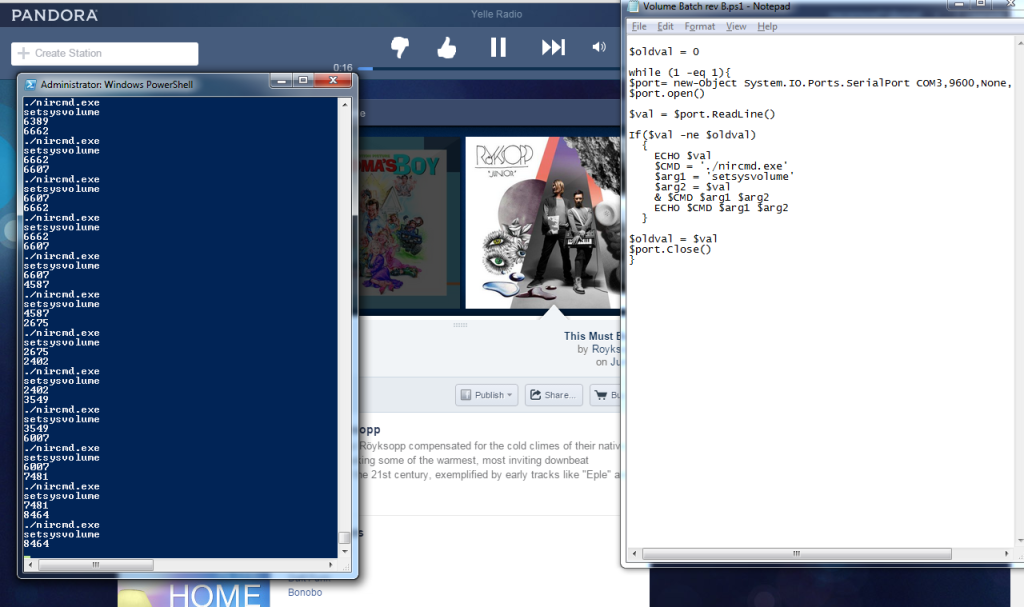 My original plan worked out pretty well, with the exception of trying to read a COM port in a Batch script. This was a pretty straightforward and forgiving project to attempt in 2 hours. But it is exactly the kind of project that wouldn't get done without this kind of push.